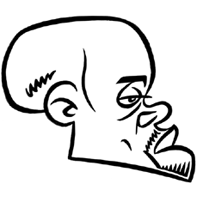 Last night's Miami Heat versus Dallas Mavericks game was reminiscent of the 'good' basketball played in the '80s and '90s. There was drama, anxiety and the usual heroics but this game gave us something more.
Dwyane Wade showed us his true metal by playing all-the-while not feeling 100%, a banged up knee (the Diesel nearly took him out mistakenly) and playing with 5 fouls. Wade is unbelievable and all season he showed us that he was ready for the big stage but last night was his coming out party.
Shaq hit 2 free throws when they really counted and went back to his style of shooting them as he did in high school. Who says you can't learn anything in high school? The Diesel always said that he'd hit the free throws when they really counted. He didn't disappoint.
The one cat that has been somewhat silent, other than mouthing off and being hit with a technical in last night's game,
Gary Payton a.k.a The Glove
has become the chameleon. The Glove hasn't played alot of minutes, but when he's in the game he has been looking to set up Shaq for an easy basket or attacking the basket and looking for a cutting teammate.
The Glove took one shot last night and it was one of the biggest shots of the night. Paytons jumper, with 9.3 seconds on the clock and the shot clock showing 1 second was euphoric. I had to stand up and cheer because GP has been at it for 16 seasons and this is the first time since the '95-'96 season that he has played in The Finals. He's been hunting for his ring and this is the year he'll get it.
GP, keep doing what you're doing and keep the swagger, the Heat need you!
*Pictures courtesy of Sportsheritageauctions.com. Thank You.*